This Week's Sunday Gospel Reflection
Readings available at www.usccb.org/readings
Sunday, March 7 – Third Sunday of Lent
https://bible.usccb.org/bible/readings/030721-YearB.cfm
Contemplation from Lectio Divina
What conversion of mind, heart, and life is the Lord asking of me?
Stop making my Father's house a marketplace. 
How do temporal concerns distract me from the things of God? How does love of money and possessions keep me from loving God wholeheartedly?
Zeal for your house will consume me. 
How important is my relationship with God in my daily life? How do I prioritize prayer, worship and acts of charity?
Many began to believe in his name when they saw the signs he was doing. 
What strengthens my faith? How can my words and actions share the Gospel with the people I meet?
---
Sign Up for Mass March 6 & 7
We encourage you to pre-register to save time when you check in at Mass, as well as to help us gauge attendance. Pre-registering is not required, however. Kindly sign up for Mass by 3:00 PM on Saturday, March 6. Here's how:
Click here and then click the "Sign Up" button of the Mass you'd like to attend.
Select the number of people in your household who will be attending from the drop-down menu.
If you're already in the Flocknotes database, the system will recognize you when you click the sign-up button. If not, enter a contact name and email or phone number if prompted.
Click Submit and close the sign-up window/tab.
You'll receive an email confirmation after your sign up is complete. The confirmation email gives you the ability to modify or cancel your registration after you've signed up.
---
Month & Year of St. Joseph
Not only is the entire month of March traditionally dedicated to St. Joseph (Feast Day March 19), but Pope Francis has also proclaimed a special "Year of St. Joseph" beginning on the Solemnity of the Immaculate Conception 2020 and extending to the same feast in 2021.
In the Apostolic Letter entitled Patris corde ("With a Father's Heart"), Pope Francis describes St. Joseph as a beloved father, a tender and loving father, an obedient father, an accepting father; a father who is creatively courageous, a working father, a father in the shadows.
Let us accept God's call and His will with the same depth of faith as St. Joseph.
---
Easter Mass Notes
Please note that we will NOT be assigning seats for Holy Week or Easter services. Signing up in advance simply saves you time when you arrive and check-in. All church seating is first-come, first-served, with overflow downstairs in the church hall.
For the 11:30 AM outdoor Mass on Easter Sunday, we will hold Mass outside under a large tent, so Mass will be held rain or shine. Be sure to bring your own chair or blanket!
---
Pastoral Council Nominations
The Parish is seeking nominees to the Pastoral Council for the 2021 and 2022 Council years (beginning this summer for a two-year term). Elections will take place the weekend of 
May 22-23, 2021
. If you are interested and have questions, please contact Fr. Pete at 
literalpd@sjehydes.org
.  Please consider taking part in this important ministry.
---
St. John School Planning Grand Reunion for April 9, 2022!
It's official! St. John the Evangelist School, Long Green Valley will be celebrating 75 years of continuous operation during the parish's bicentennial year. With the date set, we are in the preliminary planning stages. Our first and most important task is to track down an estimated 1,320 grads!!! (approximately 20 alums from each class from 1948 to 2014.)
We sure could use your help!
As much or as little as you can spare!
TASK #1: The school's digitized records from 2002 forward are pretty good but we are ISO class lists from all prior years. Would you have an old class list? Or a class photo that would help you create a class list?
TASK #2: The school has a file cabinet full of paper student records — filed alphabetically, not by graduation year, and all with addresses of parents, not students, most of which are probably former addresses! and they're not digitized! Yikes!
We are ISO contact information (full name (plus maiden name for women), address, phone and email) for your class. Do you have sleuthing skills? Looking for a constructive hobby to keep you busy during the pandemic? A great place to start is to complete your contact info here and send the school office that same info on your brothers, sisters, cousins and friends who attended SJE.
---
2021 Annual Appeal for Catholic Ministries
Joyful in Hope
As of March 1, St. John the Evangelist Church has collected $22,825 from 77 families for the Annual Appeal. This year's goal for us is $74,945. We receive a 25% rebate of our total collections, and a 50% rebate of the exceeded collection after reaching the goal. Prayerfully consider giving for the Appeal and become vessels of God's presence to the poor through the Catholic ministries. Kindly return your in-pew envelope, or give online at https://www.archbalt.org/appeal/give/.  Thank you for your prayers and support.
Pre-Order St. John's History Book
Two Centuries of Faith at Saint John the Evangelist Church
A ONE-OF-A-KIND BOOK!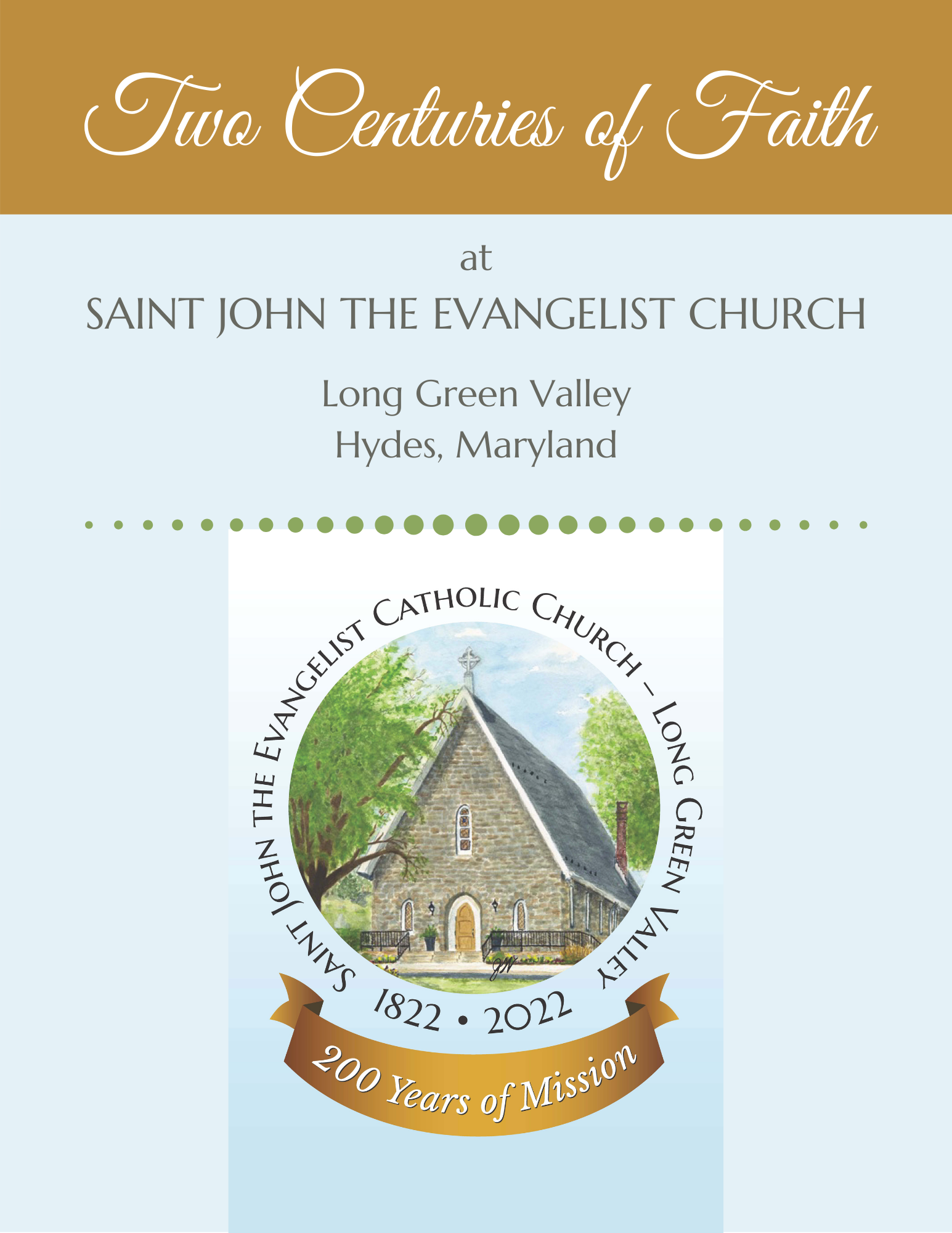 A Book for You – SJE History
Your History!
Order your bicentennial copy, plus gift copies, of an amazing, unique account:
200 years of parish families, pastors, photos, maps, and charts—details recounted via early Catholicism in Maryland and in local counties.  "Two Centuries of Faith at Saint John the Evangelist" is a true page turner!
Learn about:
The Catholic experience in colonial Maryland
Our first church building and the relationship to the Carroll family
Our second church building and the relationship to the Jenkins family
Why the bell in our bell tower is marked "1892" and not "1862"
The priests who served the parish over the last 200 years
St. John the Evangelist School
Our mission churches
Local history of the area
Other churches in the area
The Knights of Columbus
Local thespians – Long Green Valley Playhouse
And much more…
Order now!  The books will be available in April 2021, at a cost of $15 each or 2 books for $25. Make checks payable to St. John Church and submit to the parish office marked "History Book Sale."
---
What's New at SJE? Find Out in the Weekly Bulletin and Our Website!