This Week's Sunday Gospel Reflection
Readings available at www.usccb.org/readings
Sunday, March 28 – Palm Sunday of the Passion of the Lord
https://bible.usccb.org/bible/readings/032821.cfm
Contemplation from Lectio Divina
What conversion of mind, heart, and life is the Lord asking of me?
Jesus and his disciples drew near to Jerusalem. 
How can I draw near to Jesus in these final days of Lent? How can I maintain this nearness once Lent is over?
The Master has need of it and will send it back here at once. 
How can I express gratitude for the gifts that God has given me? How can I place my gifts in the Lord's service?
Blessed is the kingdom of our father David that is to come! 
How can I help to build God's kingdom? How can I learn to long for the coming of God's kingdom?
---
Mass Sign-Ups Will Discontinue After This Weekend
As we have been able to effectively notify the parish community of the few cases of COVID-19 that have occurred at St. John's, signing up for Mass for contact tracing purposes will be discontinued (other than for funerals) after this weekend. We thank all of you for your patience and flexibility during this time.
For this weekend, kindly sign-up by 3 PM on Saturday or simply sign-in when you arrive at Mass. Here's how to sign-up in advance:
Click here and then click the "Sign Up" button of the Mass you'd like to attend.
Select the number of people in your household who will be attending from the drop-down menu.
If you're already in the Flocknotes database, the system will recognize you when you click the sign-up button. If not, enter a contact name and email or phone number if prompted.
Click Submit and close the sign-up window/tab.
You'll receive an email confirmation after your sign up is complete. The confirmation email gives you the ability to modify or cancel your registration after you've signed up.
---
Year of St. Joseph
Oh, Saint Joseph, foster-father of Jesus, most pure spouse of the Virgin Mary, pray for us daily to the same Jesus, the Son of God, that we, being defended by the power of His grace and striving faithfully in life, may be crowned by Him at the hour of death. Amen.
---
Our Daily Bread & St. Elizabeth of Hungary Food Pantry Collection
Frozen casseroles for Our Daily Bread and non-perishable food items for the St. Elizabeth of Hungary Food Pantry will be collected on Easter Sunday, April 4 from 8:30-11:30 AM in the parking lot in front of the parish office.
Volunteers for both efforts will have their cars parked there for the drop-off, and they will remove your donated items from your vehicle. For safety's sake, please wear a facial mask when dropping off.
Please do not bring any items into the narthex or the church hall. Casserole pans and recipes are available in the bin in front of the parish office. The recipe may also be downloaded at: http://www.sjehydes.org/wp-content/uploads/2020/04/our-daily-bread.pdf. We appreciate your donations to help feed those in need!
---
Bicentennial Heritage Mass & Reception on April 18
To kick-off our year-long Bicentennial Celebration, Archbishop Lori will preside at the opening Heritage Mass on Sunday, April 18, 2021 at 9:00 AM. Following the Mass, we will process to the chapel for a special blessing, then the Koontz House/ Conference Center, where Archbishop Lori will bless and cut the ribbon of the Parish History Exhibit.
Afterwards, there will be a kick-off reception outside under a tent in front of the Koontz House. To ensure we have enough food, kindly RSVP with the number in your party if you plan to attend the reception. You may call the parish office to RSVP or sign-up at: https://sjehydes.flocknote.com/signup/48227
Seating for the Heritage Mass is first-come, first served, with overflow in the church hall to watch the livestreamed Mass.
Please also note that there will be no 11:30 AM Mass on April 18. A "quiet" Mass with no music will be available at 7:00 AM on April 18 as another Mass option that day.
---
Mother's Day Flower Sale
Order your spring flowers now and have them in time for Mother's Day!
Due to COVID restrictions, this sale is preorder only.  There will be no flowers sold on site. Flower information and the order form are available on our website here: https://www.sjehydes.org/bicentennial/mothers-day-flowers/.
Since we are restricted from selling flowers on site, it will be a challenge to make the flower sale as profitable for St. John's as it has been in the past. Please help us to reach out to more people. Consider passing along an order form to a friend or repost our Mother's Day Preorder Flower Sale posts on your social media. Anything that you can do to assist the church in generating more sales will be greatly appreciated!
Pre-order beautiful flowers between now and April 20, then pick up in front of the church on Friday, May 7 from 1-5 PM.
PAYMENT OPTIONS
Cash –  Provide cash with order form in envelope marked Mother's Day Flowers.  Place envelope in Sunday offertory or drop off at parish office.
Checks –  Make checks payable to St. John the Evangelist with order form and check in envelope marked Mother's Day Flowers.  Mail or drop off envelope to parish office or place envelope in Sunday offertory.
Online –  Email order form to tdepew1@gmail.com requesting a digital invoice.  An email will be provided with an invoice for electronic payment. For any questions regarding online payment, please reach out to Todd Depew @ 443-465-3653.
RETURN by Tuesday, April 20, 2021
PICKUP flower orders in front of church Friday, May 7 from 1-5 PM.
QUESTIONS Christine Dalton, 410-733-5747 or Stephanie Froberg, 410-804-8047
---
Holy Week & Easter at St. John Church
Please note that all church seating is first-come, first-served, with overflow downstairs in the church hall to watch the livestream.
For the 11:30 AM outdoor Mass on Easter Sunday, we will have Mass outside under a large tent, so Mass will be held rain or shine. Be sure to bring your own chair or blanket!
For the schedule and more information, click here.
---
St. John School Candy Fundraiser
Order delectable Sarris Candies online and have them shipped right to your door! Use the school's group ID# 10-3734 when ordering at 
sarriscandiesfundraising.com
. St. John School will earn 25% profit with each purchase! Order by March 29.
---
Virtual Art Exhibit
---
Pre-Order St. John's History Book
Two Centuries of Faith at Saint John the Evangelist Church
A ONE-OF-A-KIND BOOK!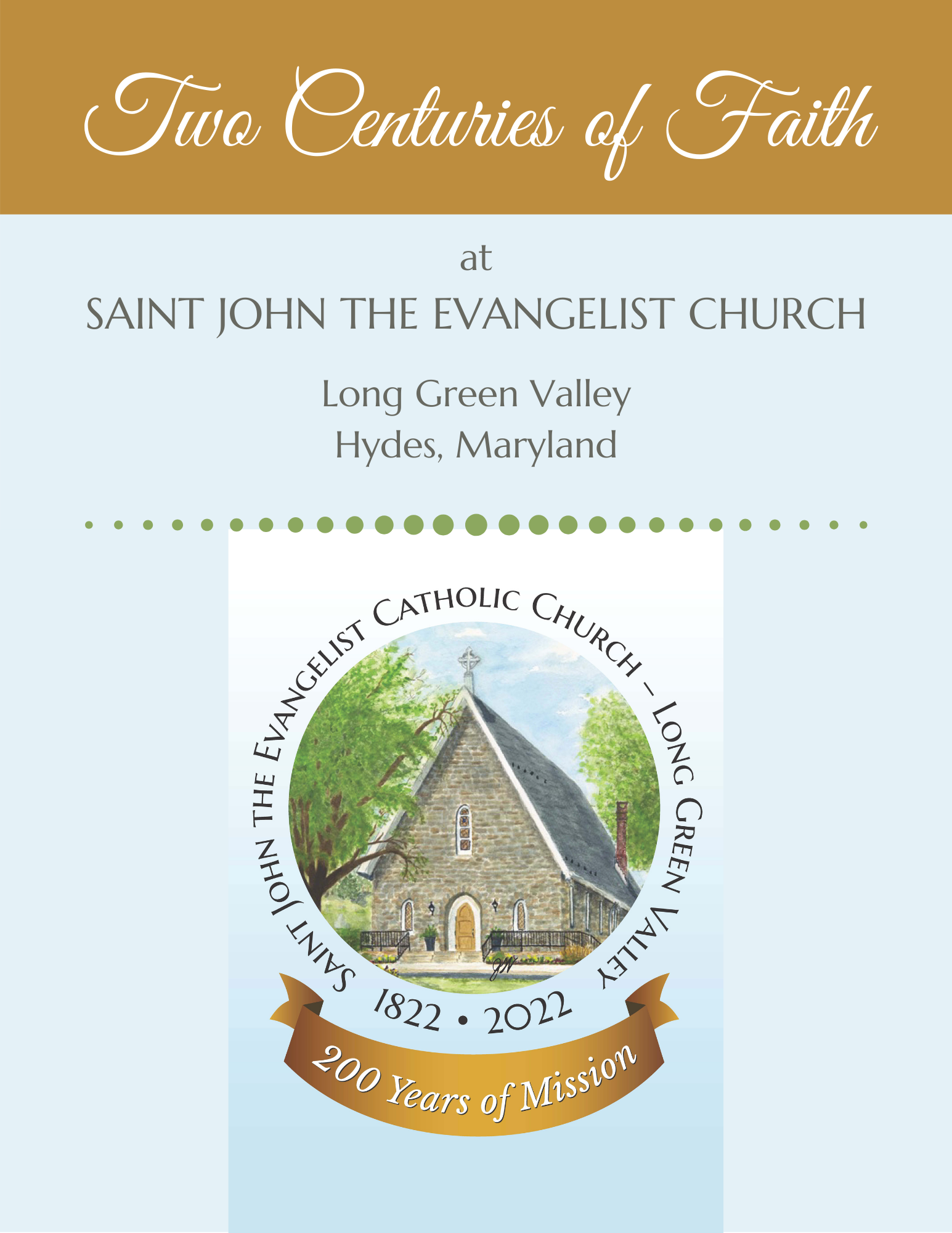 A Book for You – SJE History
Your History!
Order your bicentennial copy, plus gift copies, of an amazing, unique account:
200 years of parish families, pastors, photos, maps, and charts—details recounted via early Catholicism in Maryland and in local counties.  "Two Centuries of Faith at Saint John the Evangelist" is a true page turner!
Learn about:
The Catholic experience in colonial Maryland
Our first church building and the relationship to the Carroll family
Our second church building and the relationship to the Jenkins family
Why the bell in our bell tower is marked "1892" and not "1862"
The priests who served the parish over the last 200 years
St. John the Evangelist School
Our mission churches
Local history of the area
Other churches in the area
The Knights of Columbus
Local thespians – Long Green Valley Playhouse
And much more…
Order now!  The books will be available in April 2021, at a cost of $15 each or 2 books for $25. Make checks payable to St. John Church and submit to the parish office marked "History Book Sale."
---
What's New at SJE? Find Out in the Weekly Bulletin and Our Website!