This Week's Sunday Gospel Reflection
Readings available at www.usccb.org/readings
Sunday, March 21 – Fifth Sunday of Lent
https://bible.usccb.org/bible/readings/032121-YearB.cfm
Contemplation from Lectio Divina
What conversion of mind, heart, and life is the Lord asking of me?
"Sir, we would like to see Jesus." 
Where do I see the hand of God working in my life? How can I help others to perceive the presence of God?
Unless a grain of wheat falls to the ground and dies, it remains just a grain of wheat; but if it dies, it produces much fruit. 
In what ways do I need to die to myself? What fruit can my life bear for God?
 Whoever serves me must follow me.
How can I serve God and his Church? How can I follow God more closely?
---
Sign Up for Mass March 20 & 21
We encourage you to pre-register to save time when you check in at Mass, as well as to help us gauge attendance. Pre-registering is not required, however. Kindly sign up for Mass by 3:00 PM on Saturday, March 20. Here's how:
Click here and then click the "Sign Up" button of the Mass you'd like to attend.
Select the number of people in your household who will be attending from the drop-down menu.
If you're already in the Flocknotes database, the system will recognize you when you click the sign-up button. If not, enter a contact name and email or phone number if prompted.
Click Submit and close the sign-up window/tab.
You'll receive an email confirmation after your sign up is complete. The confirmation email gives you the ability to modify or cancel your registration after you've signed up.
---
Year of St. Joseph
March 19 – Feast of St. Joseph
Oh St. Joseph, whose protection is so great, so strong, so prompt before the throne of God, I place in you all my interests and desires.
 Oh St. Joseph, do assist me by your powerful intercession and obtain for me from your divine Son all spiritual blessings through Jesus Christ, our Lord; so that having engaged here below your heavenly power, I may offer my thanksgiving and homage to the most loving of Fathers.
Oh St. Joseph, I never weary contemplating you and Jesus asleep in your arms. I dare not approach while He reposes near your heart. Press Him in my name and kiss His fine head for me, and ask Him to return the kiss when I draw my dying breath. St. Joseph, patron of departing souls, pray for us. Amen.
---
Our Daily Bread & St. Elizabeth of Hungary Food Pantry Collection
Frozen casseroles for Our Daily Bread and non-perishable food items for the St. Elizabeth of Hungary Food Pantry will be collected on Easter Sunday, April 4 from 8:30-11:30 AM in the parking lot in front of the parish office.
Volunteers for both efforts will have their cars parked there for the drop-off, and they will remove your donated items from your vehicle. For safety's sake, please wear a facial mask when dropping off.
Please do not bring any items into the narthex or the church hall. Casserole pans and recipes are available in the bin in front of the parish office. The recipe may also be downloaded at: http://www.sjehydes.org/wp-content/uploads/2020/04/our-daily-bread.pdf. We appreciate your donations to help feed those in need!
---
Seeking Livestream/Social Media Support Volunteers
Are you a regular follower of our Sunday 9 AM Livestreamed Mass? Are you a Facebook user? Then we have a fun at-home volunteer opportunity for you!
We're looking for a few volunteers who are comfortable with Facebook to post inspirational content, Feast Days, prayers, etc. on the St. John Church Facebook page a regular basis.
We're also in need of volunteers to monitor the comment box during the Sunday livestreamed Mass and post greetings, links to the latest bulletin and website, and "like" positive comments.
If you're interested in helping out in this capacity, contact Jenn Ehrlich in the office at ehrlichje@sjehydes.org or 410-592-6206, ext. 104. All duties are from the comfort of your own home and computer!
---
Do You Live on a Main Road?
As part of our Bicentennial celebration, we'll be placing yard signs around the area to let people know about our big milestone. If you live on a main road and would be willing to display an 18 x 24" sign with wire ground stakes on your property near the road, please contact Margie Hayes at 
margiehayes@verizon.net
.
---
Easter Mass Notes
Please note that we will NOT be assigning seats for Holy Week or Easter services. Signing up in advance simply saves you time when you arrive and check-in. All church seating is first-come, first-served, with overflow downstairs in the church hall.
For the 11:30 AM outdoor Mass on Easter Sunday, we will hold Mass outside under a large tent, so Mass will be held rain or shine. Be sure to bring your own chair or blanket!
---
St. John School Candy Fundraiser
Order delectable Sarris Candies online and have them shipped right to your door! Use the school's group ID# 10-3734 when ordering at 
sarriscandiesfundraising.com
. St. John School will earn 25% profit with each purchase! Order by March 29.
---
Pre-Order St. John's History Book
Two Centuries of Faith at Saint John the Evangelist Church
A ONE-OF-A-KIND BOOK!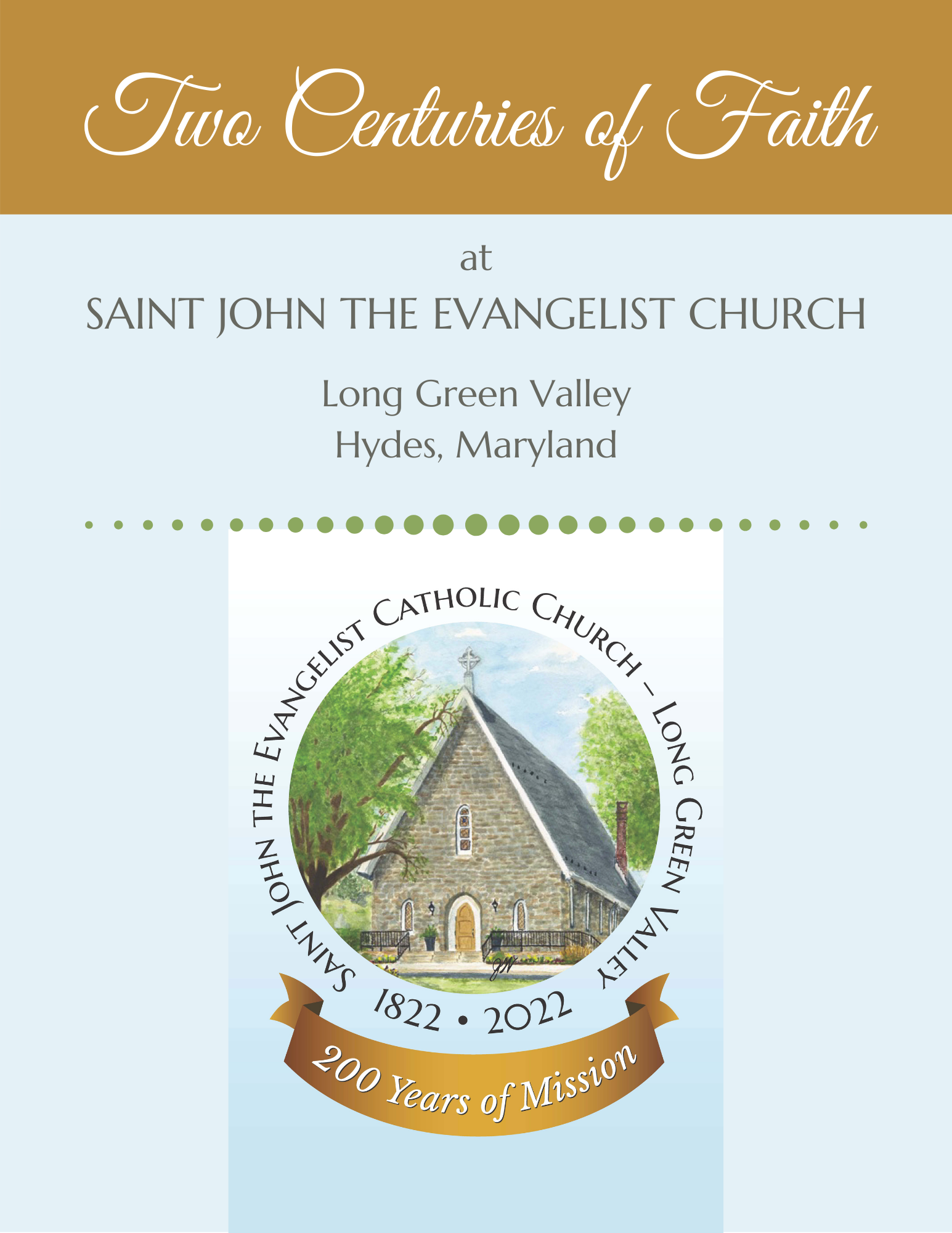 A Book for You – SJE History
Your History!
Order your bicentennial copy, plus gift copies, of an amazing, unique account:
200 years of parish families, pastors, photos, maps, and charts—details recounted via early Catholicism in Maryland and in local counties.  "Two Centuries of Faith at Saint John the Evangelist" is a true page turner!
Learn about:
The Catholic experience in colonial Maryland
Our first church building and the relationship to the Carroll family
Our second church building and the relationship to the Jenkins family
Why the bell in our bell tower is marked "1892" and not "1862"
The priests who served the parish over the last 200 years
St. John the Evangelist School
Our mission churches
Local history of the area
Other churches in the area
The Knights of Columbus
Local thespians – Long Green Valley Playhouse
And much more…
Order now!  The books will be available in April 2021, at a cost of $15 each or 2 books for $25. Make checks payable to St. John Church and submit to the parish office marked "History Book Sale."
---
What's New at SJE? Find Out in the Weekly Bulletin and Our Website!