This Week's Sunday Gospel Reflection
Readings available at www.usccb.org/readings
Sunday, February 28 – Second Sunday of Lent
Contemplation from Lectio Divina
What conversion of mind, heart, and life is the Lord asking of me?
Jesus … led them up a high mountain apart by themselves. 
Where do I find quiet and peace to pray? What distracts me from focusing on God?
Rabbi, it is good that we are here! 
Where do I feel the presence of God most clearly? Where do I need to share Christ's presence?
So they kept the matter to themselves. 
When have I failed to speak out about my faith? Who needs me to speak a word of hope?
---
Sign Up for Mass February 27 & 28
We encourage you to pre-register to save time when you check in at Mass, as well as to help us gauge attendance. Pre-registering is not required, however. Kindly sign up for Mass by 3:00 PM on Saturday, February 27. Here's how:
Click here and then click the "Sign Up" button of the Mass you'd like to attend.
Select the number of people in your household who will be attending from the drop-down menu.
If you're already in the Flocknotes database, the system will recognize you when you click the sign-up button. If not, enter a contact name and email or phone number if prompted.
Click Submit and close the sign-up window/tab.
You'll receive an email confirmation after your sign up is complete. The confirmation email gives you the ability to modify or cancel your registration after you've signed up.
---
2021 Annual Appeal for Catholic Ministries
Joyful in Hope
Our parish community follows Pope Francis' encouragement to become missionary disciples as we support the ministries that bring to life the Gospel message across the Archdiocese of Baltimore. If you have yet to make a pledge or gift to the 2021 Annual Appeal for Catholic Ministries, please do so by completing and returning your in-pew envelope, or give online at https://www.archbalt.org/appeal/give/.  Thank you for your prayers and support.
Pre-Order St. John's History Book
Two Centuries of Faith at St. John the Evangelist Church
A ONE-OF-A-KIND BOOK!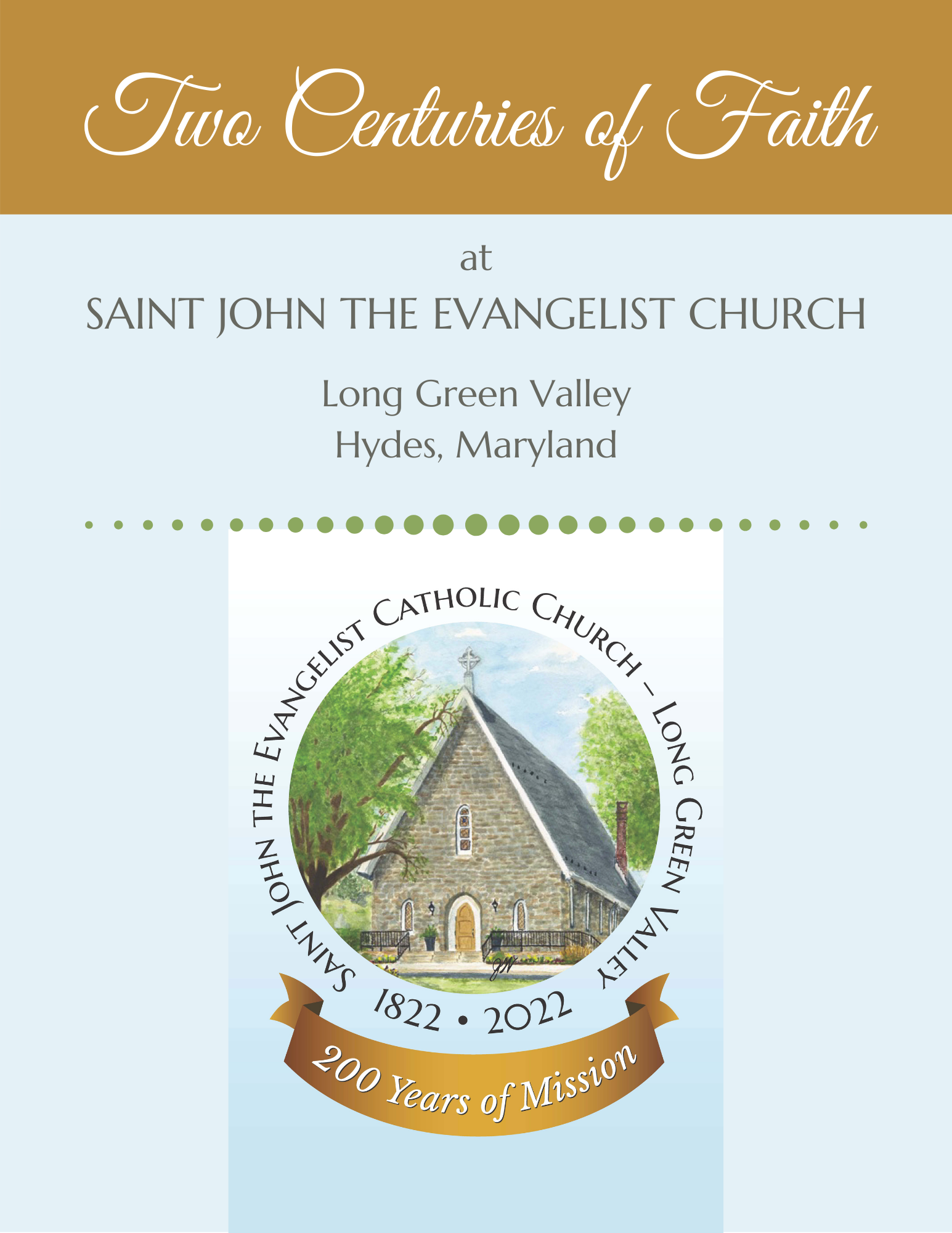 BE AMAZED – DON'T MISS IT!
Read our history in Two Centuries of Faith at St. John the Evangelist Church. Not only are the Jenkins, Bonapartes, and Johnny Unitas cited among early parishioners, but so are your family names. Enjoy little-known stories, actual humorous incidents, and the blessings of our faith community in Long Green Valley. Within 180 pages, photos, family trees, maps, and charts highlight pastors, staff, ministries, SJE School, ongoing outreach, and the SJE cemeteries.
Learn about:
The Catholic experience in colonial Maryland
Our first church building and the relationship to the Carroll family
Our second church building and the relationship to the Jenkins family
Why the bell in our bell tower is marked "1892" and not "1862"
The priests who served the parish over the last 200 years
St. John the Evangelist School
Our mission churches
Local history of the area
Other churches in the area
The Knights of Columbus
Local thespians – Long Green Valley Playhouse
And much more…
Order now!  The books will be available in April 2021, at a cost of $15 each or 2 books for $25. Make checks payable to St. John Church and submit to the parish office marked "History Book Sale."
---
---
What's New at SJE? Find Out in the Weekly Bulletin and Our Website!