This Week's Sunday Gospel Reflection
Sunday, April 11, 2021 – Sunday of Divine Mercy
What conversion of mind, heart, and life is the Lord asking of me?
The doors were locked. 
When do I keep my faith locked inside me instead of sharing it? When have my words and actions pushed people away from God?
Peace be with you.
What parts of my life (home, work, etc.) are in turmoil? How can I be a peacemaker in my environment?
But these are written that you may come to believe that Jesus is the Christ, the Son of God. 
What experiences bring me closer to God? How can I share these experiences with others?
---
---
Food Collection Thank You!
We are ever so grateful once again for the amazing generosity of our St. John parishioners!  We collected more than 250 bags of food on Easter Sunday to deliver to St. Elizabeth of Hungary Food Pantry and 107 casseroles for Our Daily Bread. Your kindness and compassion touches so many hearts and lives. Thank you for your continual support!  Our next food collection will be on Sunday, June 6.
---
Next Weekend's Mass Schedule
Saturday, April 17 – 5 PM
Sunday, April 18 – 7 AM Quiet (no music) Mass
Sunday, April 18 – 9 AM Bicentennial Heritage Mass
---
Bicentennial Heritage Mass & Reception on April 18
To kick-off our year-long Bicentennial Celebration, Archbishop Lori will preside at the opening Heritage Mass on Sunday, April 18, 2021 at 9:00 AM. Following the Mass, we will process to the chapel for a special blessing, then the Koontz House/ Conference Center, where Archbishop Lori will bless and cut the ribbon of the Parish History Exhibit.
Seating for the Heritage Mass is first-come, first served, with overflow in the church hall to watch the livestreamed Mass.
Afterwards, there will be a kick-off reception outside under a tent in front of the Koontz House. To ensure we have enough food, kindly RSVP with the number in your party if you plan to attend the reception. You may call the parish office to RSVP or sign-up at: https://sjehydes.flocknote.com/signup/48227
Please also note that there will be no 11:30 AM Mass on April 18. A "quiet" Mass with no music will be available at 7:00 AM on April 18 as another Mass option that day.
---
Mother's Day Flower Sale – Orders due by Tuesday, April 20
Order your spring flowers by April 20 and have them in time for Mother's Day!
Due to COVID restrictions, this sale is preorder only.  There will be no flowers sold on site. Flower information and the order form are available on our website here: https://www.sjehydes.org/bicentennial/mothers-day-flowers/.
Since we are restricted from selling flowers on site, it will be a challenge to make the flower sale as profitable for St. John's as it has been in the past. Please help us to reach out to more people. Consider passing along an order form to a friend or repost our Mother's Day Preorder Flower Sale posts on your social media. Anything that you can do to assist the church in generating more sales will be greatly appreciated!
Pre-order beautiful flowers between now and April 20, then pick up in front of the church on Friday, May 7 from 1-5 PM.
PAYMENT OPTIONS
Cash –  Provide cash with order form in envelope marked Mother's Day Flowers.  Place envelope in Sunday offertory or drop off at parish office.
Checks –  Make checks payable to St. John the Evangelist with order form and check in envelope marked Mother's Day Flowers.  Mail or drop off envelope to parish office or place envelope in Sunday offertory.
Online –  Email order form to tdepew1@gmail.com requesting a digital invoice.  An email will be provided with an invoice for electronic payment. For any questions regarding online payment, please reach out to Todd Depew @ 443-465-3653.
RETURN by Tuesday, April 20, 2021
PICKUP flower orders in front of church Friday, May 7 from 1-5 PM.
QUESTIONS Christine Dalton, 410-733-5747 or Stephanie Froberg, 410-804-8047
---
Outdoor Mass Sundays at 11:30 AM Begins April 25
Beginning Sunday, April 25, the 11:30 AM Mass will be held outdoors, weather-permitting. In the event of inclement weather, the Mass will be held in the church. This will be a "quiet" (no music) Mass, whether indoors or out.
---
St. John School Planning Grand Reunion for April 9, 2022!
It's official! St. John the Evangelist School, Long Green Valley will be celebrating 75 years of continuous operation during the parish's bicentennial year. With the date set, we are in the preliminary planning stages. Our first and most important task is to track down an estimated 1,320 grads!!! (approximately 20 alums from each class from 1948 to 2014.)
We sure could use your help!
As much or as little as you can spare!
TASK #1: The school's digitized records from 2002 forward are pretty good but we are ISO class lists from all prior years. Would you have an old class list? Or a class photo that would help you create a class list?
TASK #2: The school has a file cabinet full of paper student records — filed alphabetically, not by graduation year, and all with addresses of parents, not students, most of which are probably former addresses! and they're not digitized! Yikes!
We are ISO contact information (full name (plus maiden name for women), address, phone and email) for your class. Do you have sleuthing skills? Looking for a constructive hobby to keep you busy during the pandemic? A great place to start is to complete your contact info here and send the school office that same info on your brothers, sisters, cousins and friends who attended SJE.
For more information, visit https://stjohnschoollgv.org/alumni.
---
Pre-Order St. John's History Book
Two Centuries of Faith at Saint John the Evangelist Church
A ONE-OF-A-KIND BOOK!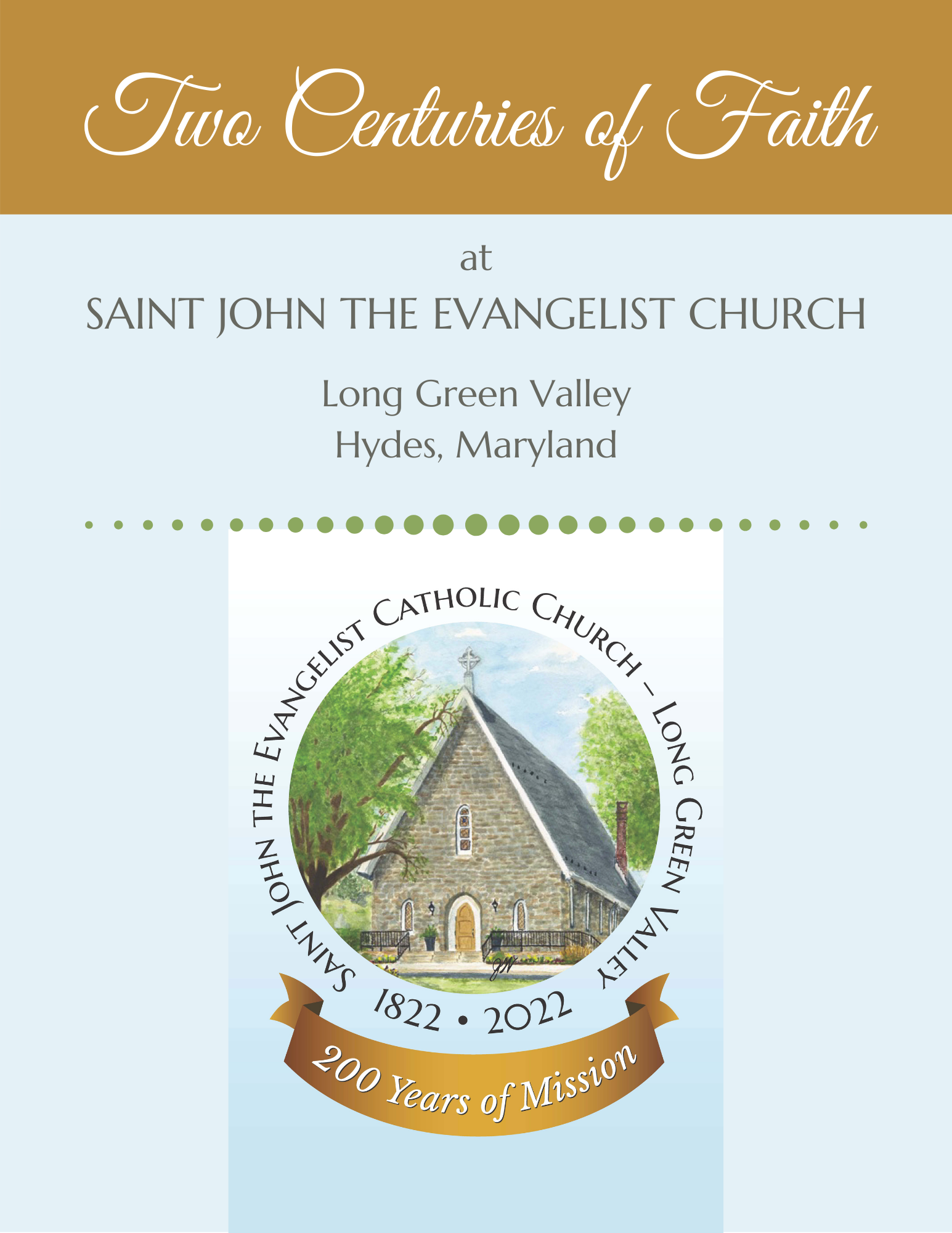 A Book for You – SJE History
Your History!
Order your bicentennial copy, plus gift copies, of an amazing, unique account:
200 years of parish families, pastors, photos, maps, and charts—details recounted via early Catholicism in Maryland and in local counties.  "Two Centuries of Faith at Saint John the Evangelist" is a true page turner!
Learn about:
The Catholic experience in colonial Maryland
Our first church building and the relationship to the Carroll family
Our second church building and the relationship to the Jenkins family
Why the bell in our bell tower is marked "1892" and not "1862"
The priests who served the parish over the last 200 years
St. John the Evangelist School
Our mission churches
Local history of the area
Other churches in the area
The Knights of Columbus
Local thespians – Long Green Valley Playhouse
And much more…
Order now!  The books will be available in April 2021, at a cost of $15 each or 2 books for $25. Make checks payable to St. John Church and submit to the parish office marked "History Book Sale."
---
What's New at SJE? Find Out in the Weekly Bulletin and Our Website!