This Week's Gospel Reflection
Sunday, September 20 – Twenty-fifth Sunday in Ordinary Time
Written by Sr. Carol Czyzewski, Pastoral Minister
Reflecting upon Sunday's scriptures, one may justly think that they are rather hard to take.  In Philippians 1, Paul declares:  For to me life is Christ, and death is gain. If I go on living in the flesh, that means fruitful labor for me. And I do not know which I shall choose. I am caught between the two. I long to depart this life and be with Christ, for that is far better. 
"Death is gain…I long to depart this life" might not resonate with one's daily thoughts. And, in Mark's Gospel, Jesus comes across as unfair in replying to workers who put in a full day's work: 'My friend, I am not cheating you. Did you not agree with me for the usual daily wage? What if I wish to give this last one the same as you? Are you envious because I am generous?' Thus, the last will be first, and the first will be last."
So, how can believers reconcile daily life with messages that prioritize eternal life with God and with Jesus' decision to give equal pay to late comers? For starters, hear the words of Isaiah 55: For my thoughts are not your thoughts, nor are your ways my ways, says the LORD. As high as the heavens are above the earth, so high are my ways above your ways and my thoughts above your thoughts.
The answer for Christians is to practice the "sacred exchange." One does not have to forsake life on earth. Rather, the Christian exchanges the ways of worldly or sinful life for divine attributes enumerated in Psalm 145: graciousness, mercy, kindness, goodness, justice, holiness, and truth.
The fruit of living this way is already "heaven on earth," and constitutes its own reward–no matter if the exchange starts early in life or begins with  sincere conversion today! Thus, open to God's loving presence—as the psalmist repeats: The Lord is near to all who call upon him–one already lives with the Beloved.
Sign Up for Mass September 19 & 20
We encourage you to pre-register to save time when you check in at Mass (check-in not required for outdoor Mass), as well as to help us gauge attendance. Pre-registering is not required, however. Kindly sign up for Mass by 3:00 PM on Saturday, September 19. Here's how:
Click here and then click the "Sign Up" button of the Mass you'd like to attend.
Select the number of people in your household who will be attending from the drop-down menu.
If you're already in the Flocknotes database, the system will recognize you when you click the sign-up button. If not, enter a contact name and email or phone number if prompted.
Click Submit and close the sign-up window/tab.
You'll receive an email confirmation after your sign up is complete. The confirmation email gives you the ability to modify or cancel your registration after you've signed up.
What's New at SJE? 
Find Out in the Weekly Bulletin and Our Website! 
Be sure to check out the full Sunday bulletin and our website home page to stay in the loop.
Click here for the bulletin, where you'll find all the latest news and information, including information about:
Fr. Pete's Weekly Pastor's Notes
Religious Education Faith Formation News
Youth Ministry News
Mass Intentions
Prayers for the Sick/Deceased
Parish History Q & A
and MORE!
Catechetical Sunday
September 20, 2020
THANK YOU, CATECHISTS!
Catechetical Sunday is a wonderful opportunity to reflect on the role that each person plays, by virtue of Baptism, in handing on the faith and being a witness to the Gospel. Catechetical Sunday is an opportunity for all to rededicate themselves to this mission as a community of faith.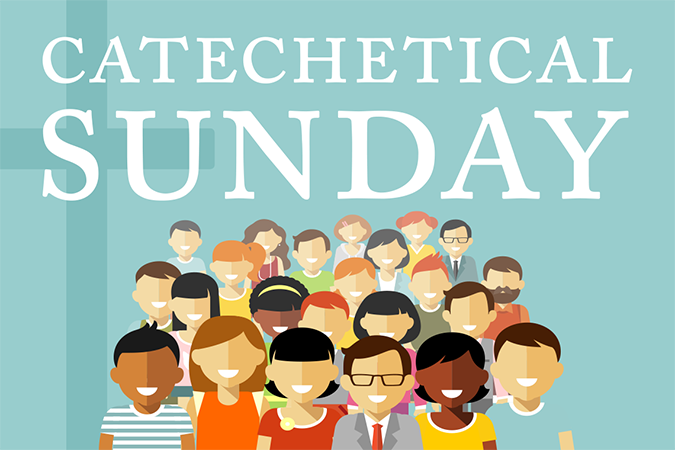 Religious Education Faith Formation Teachers & Assistants

School Religion Teachers

RCIA Catechists

Sacramental Prep Catechists for First Reconciliation, First Eucharist & Confirmation
A special group of people have accepted the call to share their faith with the very young, youth, and adults. Today is their special day and we as a community are so grateful for all they do.
The word catechesis comes from a Greek word meaning to echo.   All of us may not feel called to becoming teachers, but we are called to echo our faith.  We echo the teachings of our faith, not only when we use words, but also how we interact with one another to bring about God's Kingdom.
In this time when the world needs to hear the Word of God more than ever, let all of us remember our baptismal call to spread the Word of God.
First Friday Mass & Holy Hour – Friday, October 2
God Gives Us Gifts… What Are Yours?" Virtual Parish Mission
with David Sanborn
Sunday, September 27 & Monday, September 28, 6:30 p.m.-7:30 p.m.
You are invited to participate in this live Zoom event from the comfort of your own home – no masks required! Once you register, detailed instructions will be emailed to you.
What are your spiritual gifts? Take the survey and find out!
Click here to download the "My Spiritual Gifts Survey". Be sure to complete it before the Mission to discover your own spiritual gifts.
Register Today!
Click here to sign-up for one night or both nights. More information on Zoom access will be provided after you register.
Our Daily Bread Casserole & St. Elizabeth of Hungary Food Pantry Collection – Sunday, October 4
We will be collecting frozen casseroles for Our Daily Bread as well as non-perishable food items for the St. Elizabeth of Hungary Food Pantry on Sunday, October 4 from 8:30-11:30 AM in the parking lot next to the chapel/bell tower.
Volunteers for both efforts will have their cars parked there for the drop-off, and they will remove your donated items from your vehicle. For safety's sake, please wear a facial mask when dropping off. Please do not bring any items into the narthex or the church hall.
Disposable casserole pans and recipes are available in the plastic bin in front of the parish office. The recipe may also be downloaded here.
We appreciate your donations to help feed those in need!