This Week's Sunday Gospel Reflection
Readings available at www.usccb.org/readings
Sunday, February 21 – First Sunday of Lent
Contemplation from Lectio Divina
What conversion of mind, heart, and life is the Lord asking of me?
He remained in the desert for forty days, tempted by Satan. 
When have I wandered far away from God? What tempts me to sinful behaviors?
The angels ministered to him. 
When have I felt the consolation of God's love? How can I share that love with those I meet?
Repent, and believe in the gospel. 
What parts of my life are in need of conversion? How can I grow in my ability to follow God's will for my life?
---
Sign Up for Mass February 20 & 21
We encourage you to pre-register to save time when you check in at Mass, as well as to help us gauge attendance. Pre-registering is not required, however. Kindly sign up for Mass by 3:00 PM on Saturday, February 20. Here's how:
Click here and then click the "Sign Up" button of the Mass you'd like to attend.
Select the number of people in your household who will be attending from the drop-down menu.
If you're already in the Flocknotes database, the system will recognize you when you click the sign-up button. If not, enter a contact name and email or phone number if prompted.
Click Submit and close the sign-up window/tab.
You'll receive an email confirmation after your sign up is complete. The confirmation email gives you the ability to modify or cancel your registration after you've signed up.
---
2021 Annual Appeal for Catholic Ministries
Joyful in Hope
This week, parishioners at St. John and parishes across the Archdiocese of Baltimore are being asked to make a commitment to support the 2021 Annual Appeal for Catholic Ministries, Joyful in Hope. Ministries supported by this Appeal have a direct impact on the administration and evangelization efforts at St. John, as well as at other parishes in our Archdiocese. Your generous support and participation help move us forward in hope as a parish and as an Archdiocese as we seek to better embody the Gospel message in our lives.
Please prayerfully consider making a sacrificial pledge or gift by way of the options that will be described this weekend at Mass or by giving online at www.archbalt.org/appeal/give/. Thank you for your prayers and support.
---
Haiti Poor Box/Collection Thank You
On behalf of Fr. Antoine and Fr. Amilcar, our new Haitian pastors, I would personally like to thank all who contributed to our poor box collection last weekend. We are desperately trying to continue to fund our two Haitian schools at their pre-pandemic level, but our path has been made more difficult since so few are able to attend Mass.
However, one resourceful 4th grader at St. John School has found a way to help us. Please see below. This most moving letter is from Charlie's mom, Karen (click the image to enlarge):
Lent & Easter Schedule
Click here to view information for Lent and Easter.
Stations of the Cross will be every Friday during Lent at 7:00 PM in the church. We're happy to announce that Stations will also be livestreamed on Facebook.
Stations of the Cross are still scheduled for this evening at 7:00 PM in the church and via livestream; however, if weather or campus conditions require the cancellation of Stations of the Cross, an update will be sent later today via Flocknote, as well as posted on our website's homepage and Facebook. The main phone recording will also be updated. 
The Worship Music Resource for Stations is available here: http://www.sjehydes.org/wp-content/uploads/2020/12/Stabat-Mater-Dolorosa-At-the-Cross-Her-Station-Keeping.pdf.
---
Pre-Order St. John's History Book
Two Centuries of Faith at St. John the Evangelist Church
A ONE-OF-A-KIND BOOK!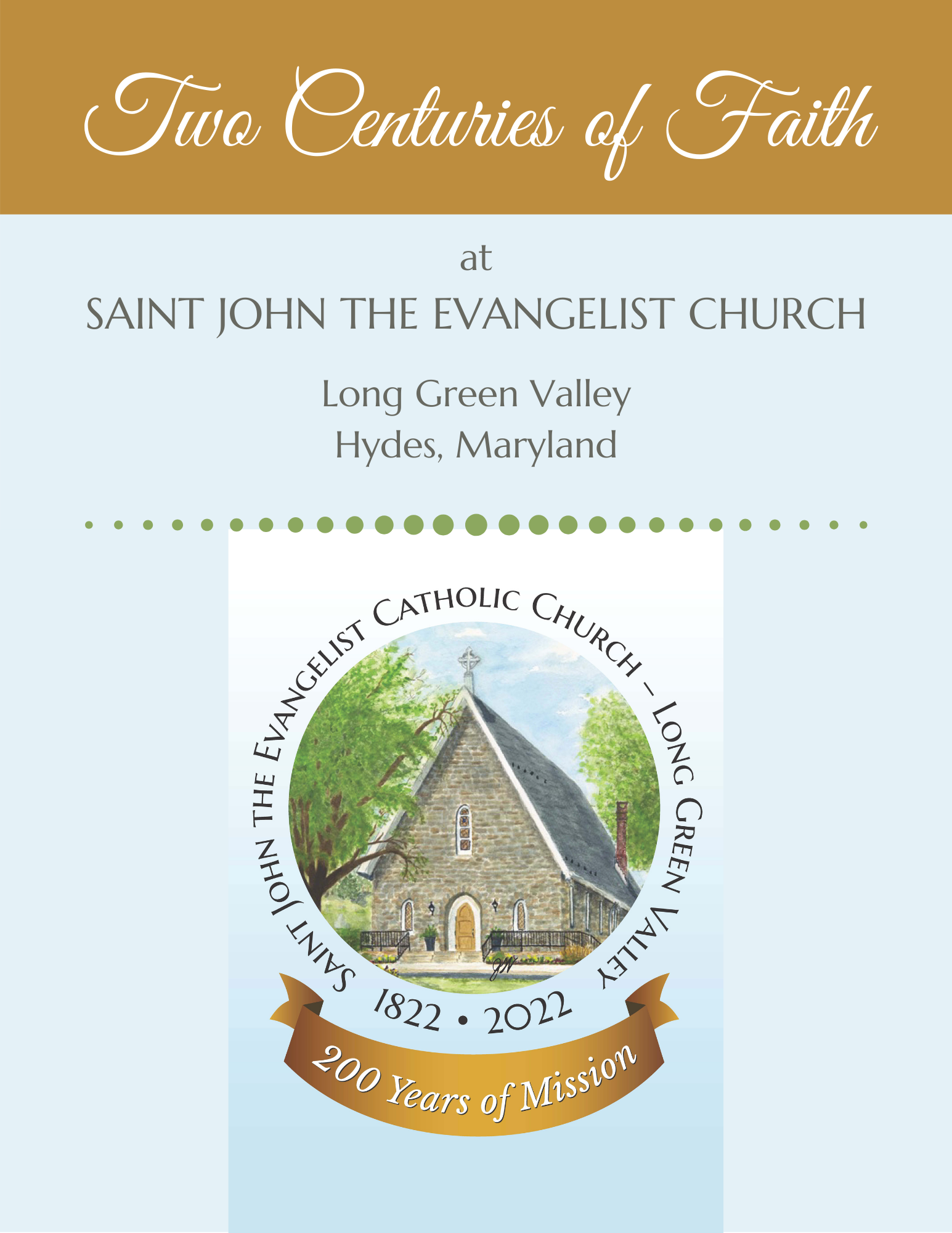 Celebrate your parish's Bicentennial! Learn St. John's origins from colonial Maryland roots and from the earliest of county settlers.  Two Centuries of Faith at St. John the Evangelist Church, available for the April 2021 launch of SJE's 200th Anniversary, promises to be a treasure trove of your history featuring pastors, families, and SJE School with over 160 pages of history, photos, maps, and charts.
Learn about:
The Catholic experience in colonial Maryland
Our first church building and the relationship to the Carroll family
Our second church building and the relationship to the Jenkins family
Why the bell in our bell tower is marked "1892" and not "1862"
The priests who served the parish over the last 200 years
St. John the Evangelist School
Our mission churches
Local history of the area
Other churches in the area
The Knights of Columbus
Local thespians – Long Green Valley Playhouse
And much more…
Order now!  The books will be available in April 2021, at a cost of $15 each or 2 books for $25. Make checks payable to St. John Church and submit to the parish office marked "History Book Sale."
---
Annulment Fact & Fiction – Recording Available
Thank you to those who attended the Annulment information session presented by Fr. Jojo Opalda. If you missed the presentation, you may watch a recording of the meeting on our YouTube channel here:   
https://youtu.be/i3W8erA3bxY
.
---
First Friday Mass & Holy Hour
March 5
Mark your calendar for First Friday Mass and Holy Hour on Friday, March 5. We will begin with Morning Mass at 8:30 AM, followed by Holy Hour, a brief talk by Fr. Pete on the topic "I welcome you with all my heart, says the Lord," and Benediction at 10:00 AM.
---
What's New at SJE? Find Out in the Weekly Bulletin and Our Website!