This Week's Sunday Gospel Reflection
Readings available at www.usccb.org/readings
Sunday, February 14 – 6th Sunday in Ordinary Time
Contemplation from Lectio Divina
What conversion of mind, heart, and life is the Lord asking of me?
A leper came to Jesus and kneeling down begged him.
For what do I need to beg Jesus? How can I approach Jesus in reverence and humility?
Moved with pity, he stretched out his hand.
What encourages me to reach out to those in need? How can I grow in compassion?
That will be proof for them.
How do I deal with those who question my faith? How can I support and defend what I believe?
---
Sign Up for Mass February 13 & 14
We encourage you to pre-register to save time when you check in at Mass, as well as to help us gauge attendance. Pre-registering is not required, however. Kindly sign up for Mass by 3:00 PM on Saturday, February 13. Here's how:
Click here and then click the "Sign Up" button of the Mass you'd like to attend.
Select the number of people in your household who will be attending from the drop-down menu.
If you're already in the Flocknotes database, the system will recognize you when you click the sign-up button. If not, enter a contact name and email or phone number if prompted.
Click Submit and close the sign-up window/tab.
You'll receive an email confirmation after your sign up is complete. The confirmation email gives you the ability to modify or cancel your registration after you've signed up.
---
Casserole & Food Pantry Thank You! 
Neither rain nor snow nor freezing cold temps could stop the warm hearts of our parishioners, who came out last Sunday despite the nasty weather to donate items for Our Daily Bread and the Food Pantry of St. Elizabeth of Hungary. You all are truly amazing! We collected more than 150 bags of food and 87 casseroles.
We thank you for the time you spared, the generosity you showed and your true compassion for those in need.  We'd also like to thank the students at St. John School for their "Souper Bowl" collections for the food pantry.
Our next collection will be on Sunday, April 4 (Easter Sunday) from 8:30-11:30 AM.
The dates for the remainder of 2021 are:   April 4, June 6, August 1, October 3, December 5.
Disposable casserole pans and copies of the recipe are available in the green bin in front of the parish office. The recipe may also be downloaded here. Thank you for your continued generosity to help feed those in need!
---
Haiti Poor Box/Collection This Weekend
This weekend, the second collection and Poor Box will be donated to aid our sister parish in Haiti. If you won't be attending Mass, Haiti donations may also be dropped off or mailed to the parish office.
Checks should be made payable to "St. John Catholic Church" and clearly marked that they are for "Haiti."
Your continued generosity to our brothers and sisters who are so much in need is deeply appreciated.
---
Ash Wednesday  – February 17
Lent Begins on 
Wednesday, February 17
. Please join us for Mass at 8:30 AM or 7:00 PM in the church. Both Masses will also be livestreamed on Facebook, which you may access on the "Videos" tab of our Facebook page at: 
www.facebook.com/st.john.hydes/videos
.
---
Parish Office Closed on Monday
The parish office will be closed on Monday, February 15 for Presidents' Day.
---
Lent & Easter Schedule
Click here to view information for Lent and Easter.
---
Live Lent!
Make This Lent About What You Do, Not What You Don't Do!
Lent is a time to renew our faith — something that requires prayer and reflection. In a small community we can see how Jesus Himself, although He was often on the move and often engaged with crowds of people, always took time for silence and prayer; we realize how important it is for us to do the same. Live Lent! will provide the opportunity.
Why not take the time this Lent for quiet, prayer and sharing in a small group? The faith-sharing book also provides meditations you can use on all the other days of Lent. Sign up for a day and time of the week that works for you. The change you experience will be well worth the time.
Sign up for a small group – there are multiple days and times to choose from. Sign up here: https://sjehydes.flocknote.com/signup/37196
For more information or questions, contact Colleen Sisolak at 410-592-6206, ext. 108 or sisolakmc@sjehydes.org.
---
Pre-Order St. John's History Book
Two Centuries of Faith at St. John the Evangelist Church
A ONE-OF-A-KIND BOOK!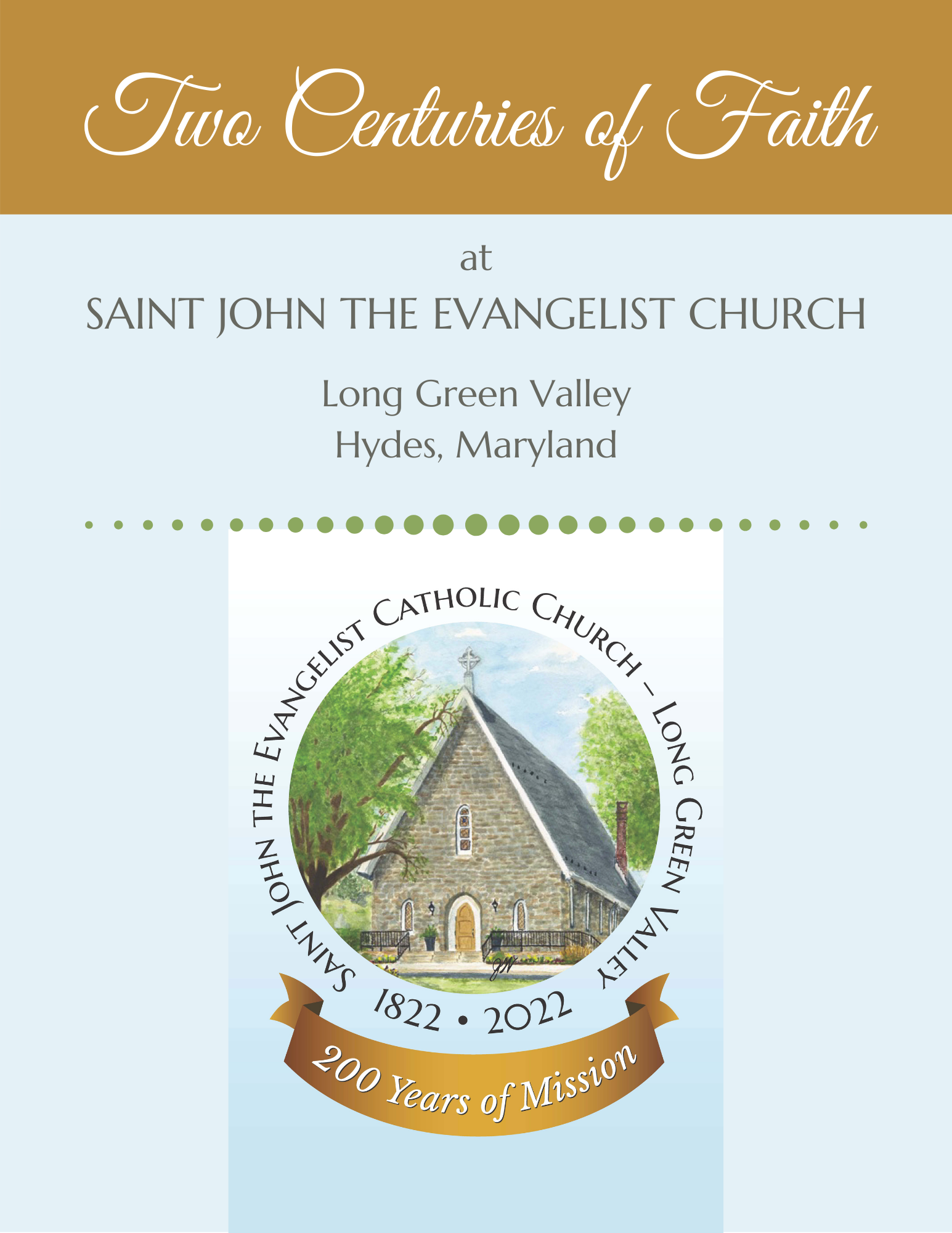 Celebrate your parish's Bicentennial! Learn St. John's origins from colonial Maryland roots and from the earliest of county settlers.  Two Centuries of Faith at St. John the Evangelist Church, available for the April 2021 launch of SJE's 200th Anniversary, promises to be a treasure trove of your history featuring pastors, families, and SJE School with over 160 pages of history, photos, maps, and charts.
Learn about:
The Catholic experience in colonial Maryland
Our first church building and the relationship to the Carroll family
Our second church building and the relationship to the Jenkins family
Why the bell in our bell tower is marked "1892" and not "1862"
The priests who served the parish over the last 200 years
St. John the Evangelist School
Our mission churches
Local history of the area
Other churches in the area
The Knights of Columbus
Local thespians – Long Green Valley Playhouse
And much more…
Order now!  The books will be available in April 2021, at a cost of $15 each or 2 books for $25. Make checks payable to St. John Church and submit to the parish office marked "History Book Sale."
---
2021 Annual Appeal for Catholic Ministries
Joyful in Hope
Next weekend, parishioners at St. John and other parishes across the Archdiocese will be asked to pledge support to the 2021 Annual Appeal for Catholic Ministries, Joyful in Hope. In advance of next weekend, please prayerfully consider how you will support the 2021 Annual Appeal for Catholic Ministries. Making a pledge, which can be paid in monthly installments through December 31, 2021<span">, is a powerful way to maximize your contribution. For more information on the 2021 Annual Appeal for Catholic Ministries, and to make a gift or pledge online, please visit archbalt.org/appeal/…. Thank you for your prayers and support.
---
What's New at SJE? Find Out in the Weekly Bulletin and Our Website!