This Week's Sunday Gospel Reflection
Sunday, May 2, 2021 – Fifth Sunday of Easter
https://bible.usccb.org/bible/readings/050221.cfm
Contemplation from Lectio Divina
What conversion of mind, heart, and life is the Lord asking of me?
Every one that does he prunes so that it bears more fruit. 
What parts of my life need to be pruned away? What fruit has God brought to bear in my life?
Without me you can do nothing. 
When have I most relied on God? What is God calling me to do?
By this is my Father glorified, that you bear much fruit and become my disciples. How does my life glorify God? How can I follow the path of discipleship more closely?
---
Outdoor Mass Sundays at 11:30 AM
Weather and conditions-permitting, the 11:30 AM Mass will be held outdoors. In the event of inclement weather or poor conditions, the Mass will be held in the church. This will be a no-music Mass, whether indoors or out.
---
Mother's Day Flower Orders
Thank you to everyone who placed orders for spring flowers through our Mother's Day Flower Sale! Orders may be picked up in front of the church on Friday, May 7 from 1-5 PM.  Note: all sales were by pre-order only; there will NOT be flowers for sale on-site.
---
The Year of St. Joseph
May 1 is the Feast of St. Joseph the Worker
Pope Pius XII established the Feast of St. Joseph the Worker on May 1 as a counter-celebration to the Communists' May Day.
Prayer to St. Joseph the Worker
O Glorious St. Joseph, model of all those who are devoted to labor, obtain for me the grace to work conscientiously, putting the call of duty above my natural inclinations, to work with gratitude and joy, in a spirit of penance for the remission of my sins, considering it an honor to employ and develop by means of labor the gifts received from God, to work with order, peace, moderation and patience, without ever shrinking from weariness and difficulties, to work above all with purity of intention and detachment from self, having death always before my eyes and the account that I must render of time lost, of talents wasted, of good omitted, of vain complacency in success, so fatal to the work of God.  All for Jesus, all through Mary, all after your example, O Patriarch St. Joseph. Such shall be my motto in life and in death.
---
Bicentennial Spirit Merchandise
Celebrate our 200
th
Anniversary and showcase your SJE Spirit with some amazing items, including shirts, a tote bag, glasses, mugs and more! Special value bundle packages available. Click
here
for more information. Questions, contact Martha Schumacher at
schumacherml@sjehydes.org
.
---
Fr. Pete Accepts the St. John School Race for Education Challenge!
We all know Fr. Pete loves a good party!
So when he heard our school principal, Mrs. Chrissy Blake, was going to be duct-taped to the front of the school building sometime in May if her students reached the $35,000 fundraising goal for their Race for Education, he countered with a further challenge and invites the entire parish to participate…
 If the total dollars raised in the St. John School Race for Education reach $38,000 by midnight Monday, May 3, then Fr. Pete will join Mrs. Blake on the wall…duct tape and all! 
Don't let Fr. Pete be disappointed. Donate now by visiting: https://www.justgiving.com/fundraising/Fr-Pete-Literal
---
Bicentennial History Exhibit Tours
St. John History Exhibit Tours in the Koontz House / Ministry Center can be requested for dates starting May 1. Call the Parish Office at 410-592-6206 for your tour appointment.
The Exhibit is displayed in five rooms, each a different era, using automated slideshows, photographs, guide interpretation and artifacts. Our history starts with the settlement of the Maryland Colony, progressing to our first church on the Ridge, our Chapel, the Modern Church and finishes in the present.
Maximum of four people or one family on a tour. Masks and social distancing will be practiced.
---
SJE Bicentennial Prayer
Son of God, we are so grateful for you.
You have sent your Spirit upon this community of
St. John the Evangelist to accompany one another in
encountering your love and peace for 200 years.
Jesus, we turn to you and look for your guidance so that we may work together, as a community, to support the mission of St. John the Evangelist Long Green Valley to "Love God, love others, proclaim the good news and make disciples," for at least 200 more years.
Ever-faithful are your works, O Lord.
We are truly blessed and encouraged to continue
to serve you and your people.
Amen!
---
---
Bicentennial Fun Run/Walk
---
First Friday Mass & Holy Hour May 7
Join us for Mass followed by Holy Hour on Friday, May 7 at 8:30 AM in the church. Fr. Pete will give a brief talk on "Breaking Bread Together" before Benediction. All are invited for this period of prayer, fasting and penance in the Holy Presence of Jesus.
---
Mother's Day Novena
A novena of Masses will be said for all mothers beginning Sunday, May 9. An envelope for the novena is included in the monthly packet. Extra envelopes are available in the narthex and parish office. Kindly return your intentions to the parish office by Friday, May 7.
---
St. John's History Book
Two Centuries of Faith at Saint John the Evangelist Church
A ONE-OF-A-KIND BOOK!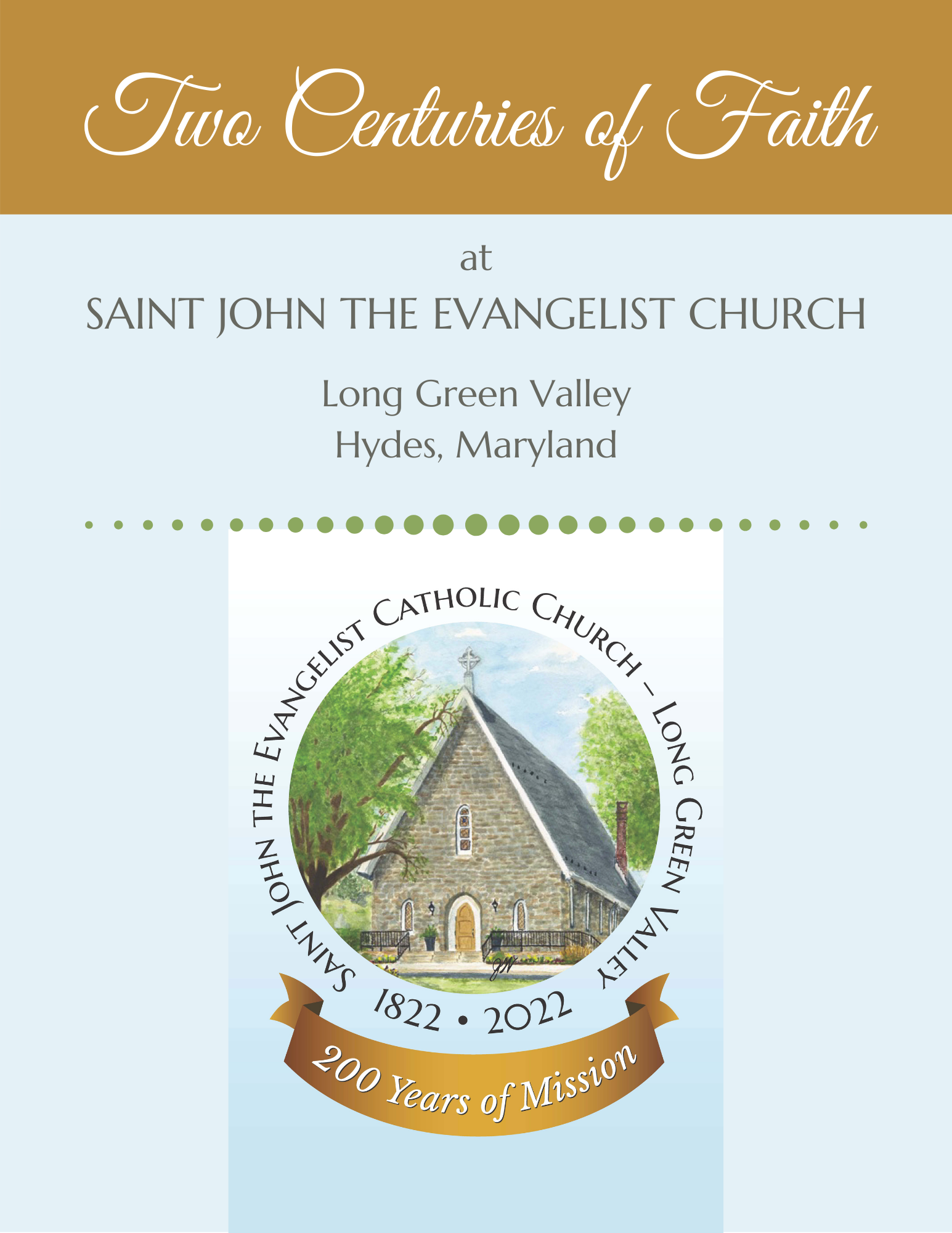 A Book for You – SJE History
Your History!
Order your bicentennial copy, plus gift copies, of an amazing, unique account:
200 years of parish families, pastors, photos, maps, and charts—details recounted via early Catholicism in Maryland and in local counties.  "Two Centuries of Faith at Saint John the Evangelist" is a true page turner!
Learn about:
The Catholic experience in colonial Maryland
Our first church building and the relationship to the Carroll family
Our second church building and the relationship to the Jenkins family
Why the bell in our bell tower is marked "1892" and not "1862"
The priests who served the parish over the last 200 years
St. John the Evangelist School
Our mission churches
Local history of the area
Other churches in the area
The Knights of Columbus
Local thespians – Long Green Valley Playhouse
And much more…
Order now!  The books will be available in April 2021, at a cost of $15 each or 2 books for $25. Make checks payable to St. John Church and submit to the parish office marked "History Book Sale."
Reserve your copy on our website at: http://www.sjehydes.org/bicentennial/history-book/
Please note:  While the printed books were received as noted in last weekend's bulletin, we subsequently discovered that the binding is faulty. We are working with the publisher to correct the issue and will notify you when the books are ready for pick-up. If you've already received one of the books, we will replace it when the new books are delivered. We apologize for any inconvenience.
---
May Crowning
All are welcome for a special outdoor crowning of the Blessed Mother on Tuesday, May 11 after the 8:30 AM Mass.
---
"Treasures in the Hall" is Back!
Now Open!
Pat Loeffler has already opened shop for this year's "Treasures in the Hall." As we're not able to have the Spring Fling this year, come out and shop for treasures as you support our parish during this Bicentennial year. All proceeds benefit St. John Church.
Shop for a wide variety of items in the church hall on Saturday from 4-6:30 PM and Sunday 10 AM – 1 PM or by appointment. Call Pat at 443-417-5665 for more info. Face masks and social distancing are required.
---
Pastoral Council Elections – Nominees
Pastoral Council Elections are coming up 
May 22-23
. The current list of nominees is available in our bulletin for you to download and view. If you are interested in running for Pastoral Council, contact Kristen McCormick at
kmccor14@jhu.edu
 or Ray Dietz at 
craytrek@comcast.net
.
---
What's New at SJE? Find Out in the Weekly Bulletin and Our Website!