This Week's Sunday Gospel Reflection
Sunday, April 18, 2021 – Third Sunday of Easter
What conversion of mind, heart, and life is the Lord asking of me?
Jesus was made known to them in the breaking of bread. 
How can I make the Eucharistic liturgy more central in my life? Where do I see Jesus acting in my life?
And why do questions arise in your hearts? 
What issues or circumstances raise questions or doubts in my heart? What resources are available to me to respond to these questions or doubts?
You are witnesses of these things. 
Whose witness has strengthened my faith? To whom have I given witness of my faith?
---
Bicentennial Kick-Off Weekend!
The Mass schedule for this weekend is:
Saturday, April 17 – 5 PM
Sunday, April 18 – 7 AM Quiet (no music) Mass
Sunday, April 18 – 9 AM Bicentennial Heritage Mass
A number of invited special guests and clergy will be attending the 9 AM Heritage Mass this weekend with reserved seats, so we anticipate that the church will reach capacity quickly for the 9 AM Mass. Seating is first-come, first-served, with overflow seating in the Hall to view the livestream and receive Communion.
The 9 AM Heritage Mass will be livestreamed on Facebook AND the chapel blessing as well as the blessing and ribbon-cutting of the new Parish History Exhibit will also be livestreamed immediately following Mass.
For more bicentennial news and events, be sure to visit our website.
---
#SJE200
As you attend events during the upcoming Bicentennial year, be sure to tag your photos with "#SJE200" when you post on social media to help generate some excitement around our celebration!
---
Mother's Day Flower Sale – Orders due by This Tuesday, April 20
Order your spring flowers by April 20 and have them in time for Mother's Day!
Due to COVID restrictions, this sale is preorder only.  There will be no flowers sold on site. Flower information and the order form are available on our website here: https://www.sjehydes.org/bicentennial/mothers-day-flowers/.
Since we are restricted from selling flowers on site, it will be a challenge to make the flower sale as profitable for St. John's as it has been in the past. Please help us to reach out to more people. Consider passing along an order form to a friend or repost our Mother's Day Preorder Flower Sale posts on your social media. Anything that you can do to assist the church in generating more sales will be greatly appreciated!
Pre-order beautiful flowers between now and April 20, then pick up in front of the church on Friday, May 7 from 1-5 PM.
PAYMENT OPTIONS
Cash –  Provide cash with order form in envelope marked Mother's Day Flowers.  Place envelope in Sunday offertory or drop off at parish office.
Checks –  Make checks payable to St. John the Evangelist with order form and check in envelope marked Mother's Day Flowers.  Mail or drop off envelope to parish office or place envelope in Sunday offertory.
Online –  Email order form to tdepew1@gmail.com requesting a digital invoice.  An email will be provided with an invoice for electronic payment. For any questions regarding online payment, please reach out to Todd Depew @ 443-465-3653.
RETURN by Tuesday, April 20, 2021
PICKUP flower orders in front of church Friday, May 7 from 1-5 PM.
QUESTIONS Christine Dalton, 410-733-5747 or Stephanie Froberg, 410-804-8047
---
Outdoor Mass Sundays at 11:30 AM Begins April 25
Beginning Sunday, April 25, the 11:30 AM Mass will be held outdoors, weather-permitting. In the event of inclement weather, the Mass will be held in the church. This will be a "quiet" (no music) Mass, whether indoors or out.
---
St. John School Race for Education
Race for Education is our school's biggest fundraiser and we need your help!  Your tax-deductible donation directly benefits the students and faculty at SJE.
Race Day this year is live, in-person and on-campus on April 30. Students, faculty and staff will be running (or maybe walking!) a lap course on our parking lot (a.k.a. playground!) Your support is so important to the success of this event. We have no doubt that we will reach our $35,000 goal because our Eagles soar!
See this weekend's bulletin for a sponsor form.  Thank you for your kindness and be sure to cheer us on in prayer for a beautiful, fun and safe race day. Thank you very much!
---
Bicentennial Spirit Merchandise
Celebrate our 200
th
Anniversary and showcase your SJE Spirit with some amazing items, including shirts, a tote bag, glasses, mugs and more! Special value bundle packages available. Click
here
for more information. Questions, contact Martha Schumacher at
schumacherml@sjehydes.org
.
---
Bicentennial Fun Run/Walk
---
St. John's History Book
Two Centuries of Faith at Saint John the Evangelist Church
A ONE-OF-A-KIND BOOK!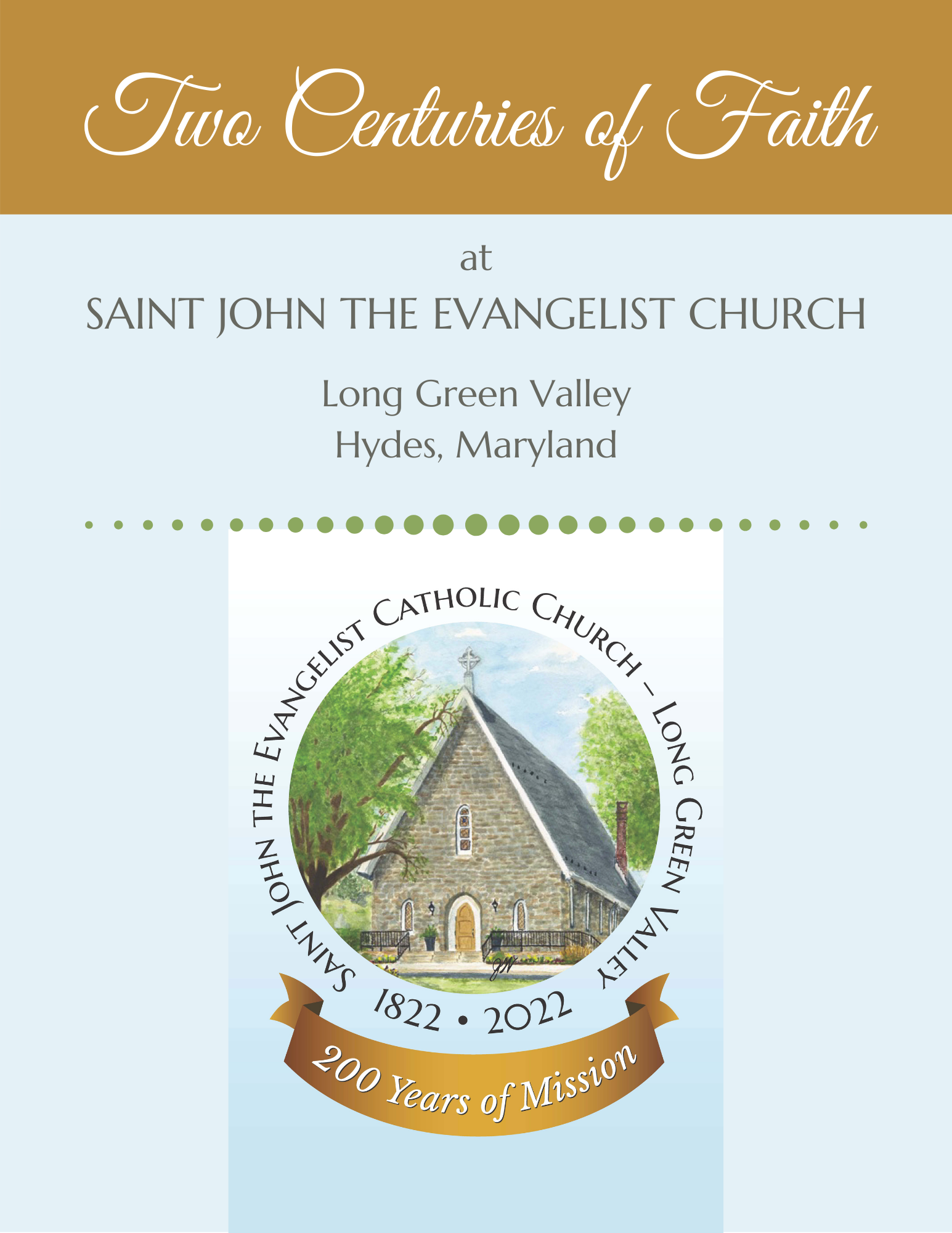 A Book for You – SJE History
Your History!
Order your bicentennial copy, plus gift copies, of an amazing, unique account:
200 years of parish families, pastors, photos, maps, and charts—details recounted via early Catholicism in Maryland and in local counties.  "Two Centuries of Faith at Saint John the Evangelist" is a true page turner!
Learn about:
The Catholic experience in colonial Maryland
Our first church building and the relationship to the Carroll family
Our second church building and the relationship to the Jenkins family
Why the bell in our bell tower is marked "1892" and not "1862"
The priests who served the parish over the last 200 years
St. John the Evangelist School
Our mission churches
Local history of the area
Other churches in the area
The Knights of Columbus
Local thespians – Long Green Valley Playhouse
And much more…
Order now!  The books will be available in April 2021, at a cost of $15 each or 2 books for $25. Make checks payable to St. John Church and submit to the parish office marked "History Book Sale."
Reserve your copy on our website at: http://www.sjehydes.org/bicentennial/history-book/
Please note:  While the printed books were received as noted in last weekend's bulletin, we subsequently discovered that the binding is faulty. We are working with the publisher to correct the issue and will notify you when the books are ready for pick-up. If you've already received one of the books, we will replace it when the new books are delivered. We apologize for any inconvenience.
---
What's New at SJE? Find Out in the Weekly Bulletin and Our Website!