This Week's Gospel Reflection
Sunday, August 30 – Twenty-second Sunday in Ordinary Time
https://bible.usccb.org/bible/readings/083020.cfm
Written by Colleen Sisolak, Director of Youth & Young Adult Ministry
Heavenly Father, we are so very grateful for Your ultimate sacrifice, giving of Your only Son, so that we may again return to Your heavenly kingdom and be in perfect union with You. You suffered the ultimate sacrifice for us, and we are grateful.
As humans, we only know our lived and shared experiences. We are often unable to see the larger picture and share in Your wisdom and understanding. At times, this causes us to reject Your will for us or our loved ones. How often do we hear a parent, desiring for their child what they know and love, instead of encouraging their children into a life of service, consecrated life, or priestly ministry? Fearful of the unknown, fearful of the future, lacking the faith to know, trust and love the will You have for each of us, we, like Peter in this weekend's Gospel, sometimes say, "God Forbid it. No such thing should ever happen to you."
In a world that too often desires money, fame, and success, we are grateful for the reminder "Whoever wishes to come after me must deny himself, take up his cross, and follow me." "What profit would there be for one to gain the whole world and forfeit his life?"
Help us, Lord Jesus, to deny ourselves so that we can better see with Your eyes, understand with Your heart, and serve with Your hands so as to do Your will for us, and not our will for ourselves or others.
Amen.
You're Invited to First Friday Mass & Holy Hour
Friday, September 4, 2020
8:30 a.m.
Sign Up for Mass August 29 & 30
We invite you to come back to Mass! The safety of our parishioners, volunteers, and staff is our top priority. As such, we have put important protocols and safety measures in place for your protection. Our worship space is sanitized after every Mass and we follow strict social distancing and safety measures. We also offer an outdoor Mass every Sunday at 11:30 AM (weather-permitting) in front of the Conference Center building. Come and receive the Holy Eucharist!
We encourage you to pre-register to save time when you check in at Mass (check-in not required for outdoor Mass), as well as to help us gauge attendance. Kindly sign up for Mass by 3:00 PM on Saturday, August 29. Here's how:
Click here and then click the "Sign Up" button of the Mass you'd like to attend.
Select the number of people in your household who will be attending from the drop-down menu.
If you're already in the Flocknotes database, the system will recognize you when you click the sign-up button.  If not, enter a contact name and email or phone number if prompted.
Click Submit and close the sign-up window/tab.
You'll receive an email confirmation after your sign up is complete. The confirmation email includes options to cancel or modify your registration after you've signed up.
Sunday Bulletin 
For the current as well as past editions of our bulletin,  click
here
.
Worship Music Resource 
Click 
here
 to view and download this Sunday's worship music, which includes:
Christ in Me Arise
Glory to God
Psalm 63: My Soul Is Thirsting
Gospel Acclamation
My Heart, Your Home (solo)
Holy
Memorial Acclamation
Amen
Lamb of God
New Wine (solo)
Electronic Worship Resources
In the absence of hymnals and other printed worship aids, there are several electronic resources available to help you follow along with the readings, prayers, and music. Click 
here 
to learn more.
Haiti Poor Box Thank You!
Thank you to those who contributed to last weekend's Haiti Poor Box. Your continued generosity to our brothers and sisters who are so much in need is deeply appreciated.
Cloth Face Masks Available
The parish has received a supply of white cotton washable face masks, which are available FREE to parishioners who need them. The masks will be available before/after Masses in the narthex of the church, or call the parish office to arrange a time to pick them up.
New School Year Blessings
We look forward to welcoming back St. John School students on Monday, August 31, and we wish all students – from Pre-K through college and beyond, whether studying virtually or in-person – a safe and successful start to the new school year.
Marketing/Communications Volunteers
Our Communications Coordinator, Jenn Ehrlich, is looking to put together a team of experienced Marketing/Communications professionals to volunteer their expertise in graphic design, copywriting, PR, media, marketing, communications, advertising, social media, digital photography, web design, etc. for various needs throughout the year as well as for the upcoming Bicentennial Celebration.
This is a great way to get involved and use your God-given talents in service to the mission of our parish. Contact Jenn Ehrlich at 
ehrlichje@sjehydes.org
 or 410-592-6206, ext. 104 for more info.
Volunteers Needed to Create Powerpoint Slides for Weekly Livestream
Our Livestream Ministry is seeking creative individuals to produce weekly Powerpoint presentations to be broadcast before and after the Mass livestreams on Facebook.
Skills needed include:
Own computer/laptop and have skills with Powerpoint, and hopefully Photoshop (or other editing program)
Experience and knowledge of Video and Livestream platforms (i.e., YouTube, Premiere, Slingstudio, etc.) would be great!
Collaborative team-player
Creative
Teachable (we can provide some training/assistance)
This is a non-paid, volunteer position requiring several hours per week, depending on the complexity of the slides. Those interested should contact Doug Byerly at 
dbbyerly@aacc.edu
 as soon as possible.
Our Daily Bread Casserole & St. Elizabeth of Hungary Food Pantry Collection – Next Sunday, September 6
We will be collecting frozen casseroles for Our Daily Bread as well as non-perishable food items for the St. Elizabeth of Hungary Food Pantry next Sunday, September 6 from 8:30-11:30 AM in the parking lot next to the chapel/bell tower.
Volunteers for both efforts will have their cars parked there for the drop-off, and they will remove your donated items from your vehicle. For safety's sake, please wear a facial mask when dropping off. Please do not bring any items into the narthex or the church hall.
Disposable casserole pans and recipes are available in the plastic bin in front of the parish office. The recipe may also be downloaded here.
We appreciate your donations to help feed those in need!
"Treasures in the Hall" Parish Fundraiser – Shop by Appointment
Come and see what treasures await at our shop-by-appointment Treasures in the Hall!
Lots of bargains are available for purchase to support our parish.  You can shop by appointment only at "Treasures in the Hall." For safety's sake, be sure to wear a face mask and maintain six feet of social distance during your shopping appointment.
Contact Pat Loeffler at 443-417-5665 to make an appointment to shop in the church hall.
All proceeds benefit St. John Parish.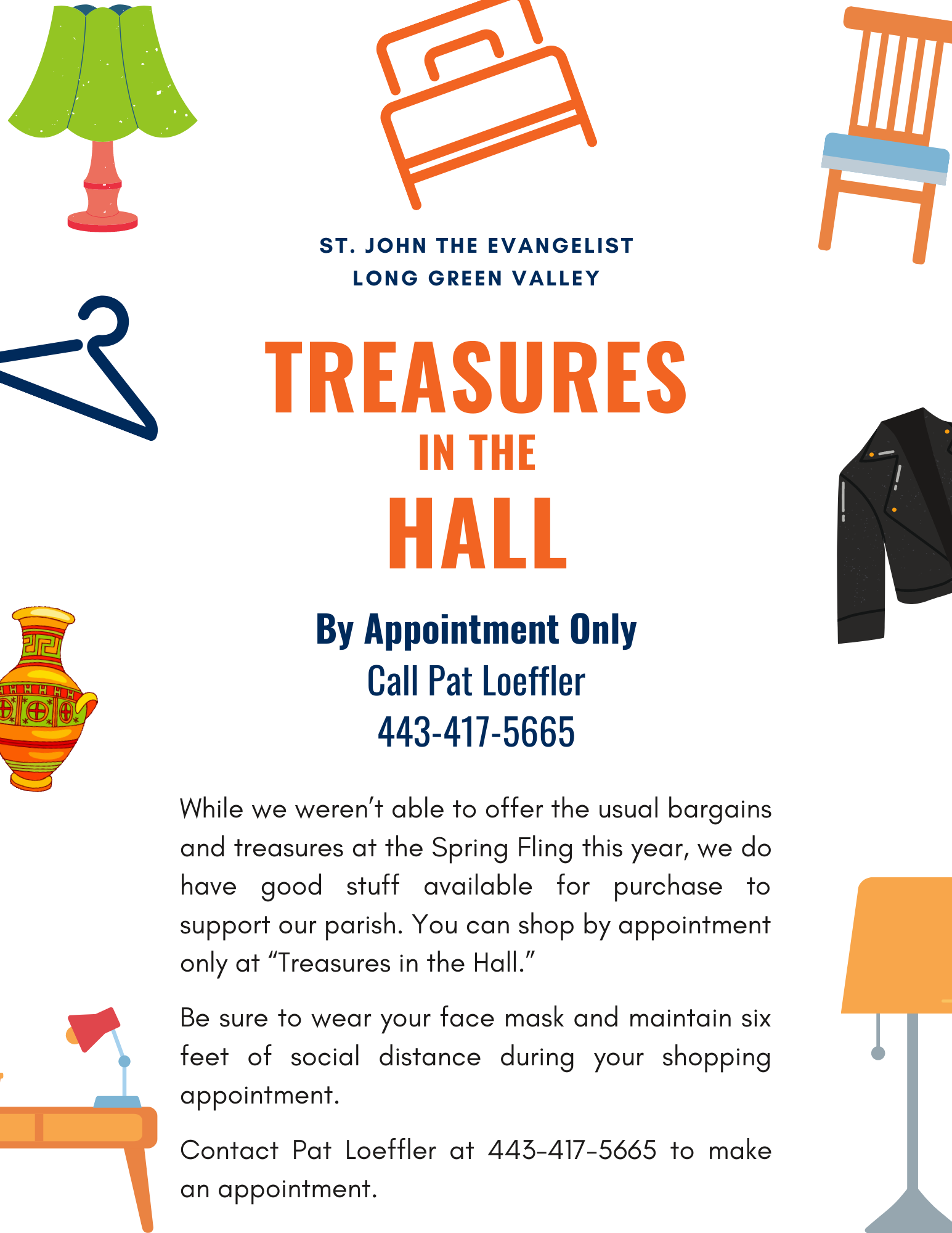 SJE Art Exhibits
We invite all artists, photographers, quilters, knitters, poets, musicians, floral designers, wood crafters, etc. to participate in SJE Art Exhibits to help celebrate the upcoming 200th anniversary of the parish by featuring their God-given talents via various media. Click
here
for more information.
Register Now!
Spaces are filling fast for How to Go from Broken to Blest  
Virtual Book Discussion Group
---
Sunday 9 AM Live-stream on Facebook
Dispensation from the Sunday Mass obligation remains in effect throughout this phase of reopening for those who are ill or at-risk.
You can watch the live-stream without joining Facebook
You may also access Facebook by clicking the Facebook "f" icon in the upper right corner of our website's home page (www.sjehydes.org)